Ci spiace, questa pagina non è disponibile nella tua lingua. Comunque puoi tradurre la pagina con Google Translate. Questo provocherà probabilmente errori nella traduzione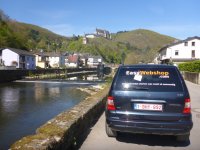 EasyWebshop keeps growing. To follow up on the constant growth, we have added new servers to the network.
To develop a strong network, we have placed our servers at different locations. A number of servers are located in a data center in Belgium. Our new servers have been placed in Luxembourg: a central location from which there is a high-speed internet connection with Western European countries such as France, the Netherlands, Germany and Great Britain.